Great learnings, lots of fun and excitement awaits for MM Group's first Annual Leadership Training!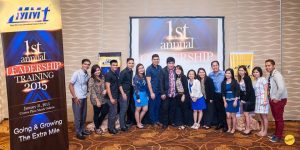 Last year 2015, the very first Annual Leadership Training was held at the Crowne Plaza Manila Galleria conducted for Mega Mile Trans team players with a theme of "Going and Growing the Extra Mile."
This year 2016, the management made its expansion initiating The Annual Leadership Training in totality as a 'Group of Companies' aiming to train and equip all the Mega Mile Trans (MMT) team players including the MultiMind Enterprise (MME) Team and welcoming its new sister company Moments and Memories Adventures (MMA) Travel and Tours.
The management believes that as a group heading to new horizons, the three companies will definitely be having a lot of new opportunities into partnerships and collaborations to attain its ever best and peak performance possible and as well to be a helping hand for its respective clients and partners.
Having invited two great business coaches, mentors, and consultants in the field of leadership, management, customer service, and unleashing people's potentials and excellence. First is Sir Al Ian Barcelona, Impact Chief Trainer and Motivational Speaker of AIB Training and Events Consulting Co. and Sir Carl Mark Minano Ph.D., DBE, Business Coach, Management Consultant, and a Dean of Adamson University.
MM Group Annual Leadership Training 2016 is a whole day event to be held this September 24, Saturday at The Bayleaf Hotel, Intramuros, Manila Philippines.
September 23, 2016