A wide range earthquake hit the Philippines with a 6.1 magnitude last April 22, 2019, Monday at 5:11 pm with an epicenter located in Castillejos, Zambales of Luzon. Casualties and death tolls keep on rising as days passes by.
Yet another earthquake with a magnitude 6.5 hits Eastern Samar of Visayas last April 23, few days after.
No one knows when an earthquake will happen.
Here's a friendly reminder of the things that you should do before, during and after an earthquake.
Keep safe everyone!
BEFORE AN EARTHQUAKE
Planning is the most important thing to do as preparation for any disaster.
Know the earthquake hazards in your area.
Strap or bolt heavy furniture/ cabinets to the walls
Always check the stability of hanging objects (Eg: Ceiling Fans and Chandeliers)
Familiarize yourself with the exit routes and know where does the emergency kits are located.
Conduct and participate in regular earthquake drills.
Set a plan with your family members on where are you going to meet after the earthquake in case the communication will be lost.
Always stay calm and pray.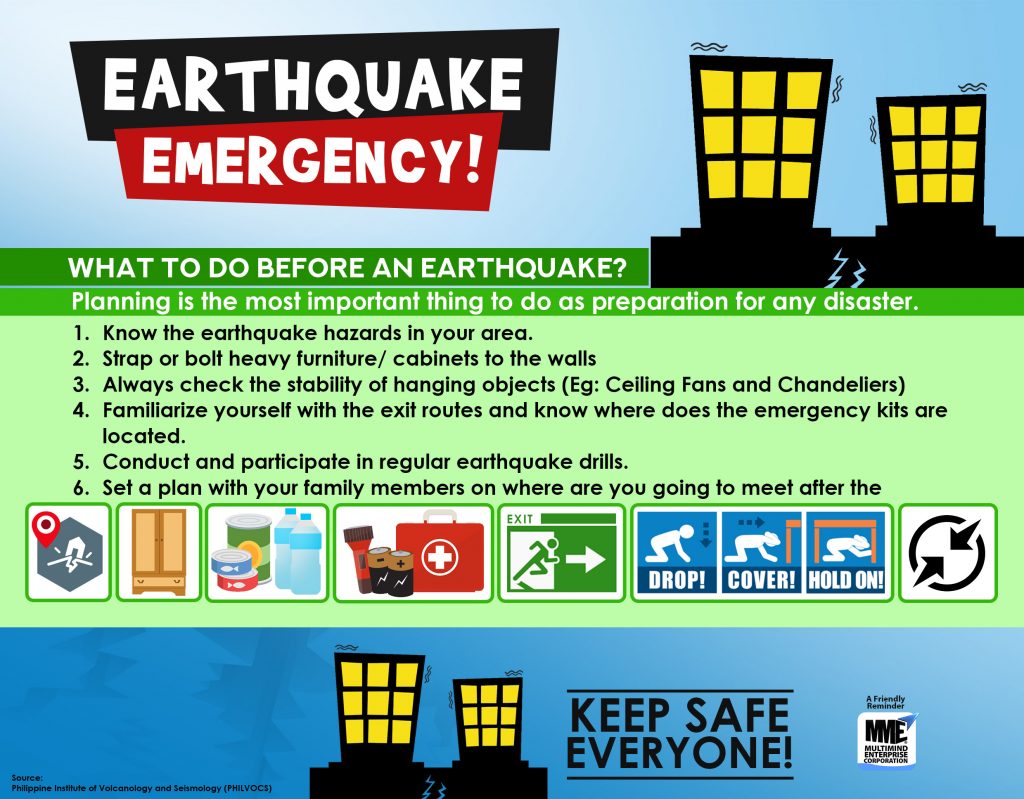 DURING AN EARTHQUAKE
WHEN YOU ARE INSIDE THE BUILDING:
Stay inside and do the Drop, Cover and Hold.
Drop under the table and hold on to it.
Stay away from glass windows, shelves, cabinets and other heavy objects.
Beware of any failing objects.
Be alert and keep your eyes open.
WHEN YOU ARE OUTSIDE THE BUILDING:
Move to an open area!
Stay away from trees, powerlines, posts and concrete structures.
Move away from steep slopes may which be affected by landslides.
If you're near the shore, move quickly to higher grounds. Tsunami might follow.
WHEN YOU ARE IN A MOVING VEHICLE:
Stop and get out!
Do not attempt to cross bridges, overpasses or flyovers which may have been damaged.
AFTER AN EARTHQUAKE
Once the shaking stops, immediately take the fastest and safest way out of the building.
Be prepared for aftershocks.
Check yourself and others for injuries.
If you need to evacuate your residence, leave a message indicating where are you going and don't forget to bring your emergency kits.
A friendly reminder from MultiMind Enterprise.
Source: Philippine Institute of Volcanology and Seismology (PHILVOCS)