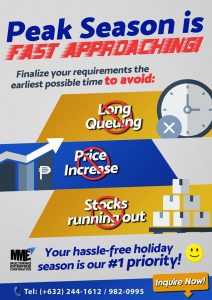 The peak season is fast approaching!
Let's have a "hassle free" holiday season for your Corporate Giveaway needs.
Check our friendly reminders!
Avoid Long Queuing – We at MME follows a first-come, first-serve basis when it comes to production of our products. Be the first in line!
Avoid Price Increase in Certain Items – During peak season, certain items will increase its price due to its high demand. Get your budget maximized by availing our products at its regular price.
Avoid Stocks Running Out – Due to high demand, your preferred items might run out of stocks. Secure your target requirements while supplies are still available.
We desire your holiday season to be light and smooth.
The best thing to do now is to finalize your requirements the earliest possible time.
E-mail us at [email protected]e.com
or Call us at (02) 244 1612 & (02) 982 0995.
Thank you and Have a great day!