Description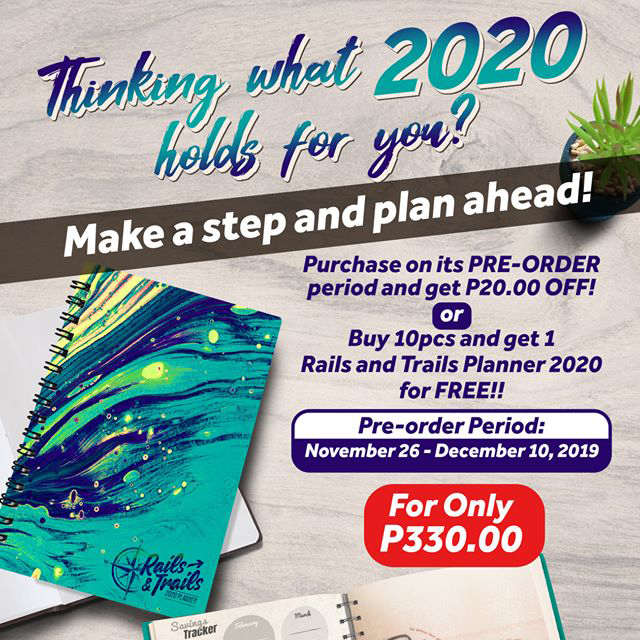 Few more weeks until we release our Rails and Trails Planner 2020 edition!
Purchase on its PRE-ORDER period and get P20.00 OFF!
For Bulk orders, buy 10pcs and get 1 Rails and Trails Planner 2020 for FREE!!
LIMITED STOCKS only, so don't miss this chance to have the best design of 2020 Planner for you, your loved ones or for your friends! ❤
Pre-order Period is valid from November 26 to December 10, 2019
Release Date of Pre-orders will start on December 16, 2019
#RailsandTrails #2020Planner #SetYourRails
Promo cannot be availed in conjunction with any special discounts or other promos.
Note: All pictures shown are for illustration purposes only.
Actual photo may vary due to product enhancement.
Rails & Trails Planner was born with "2 Key Missions to fulfill"
1st:
to set our tracks ahead & to envision our long term goals, beginning with the end in mind facing the year, then the months and the weeks ahead..
Just like BUILDING PERSONAL RAILS to properly track the path to take through the journey of 2019.
2nd:
to keep a personal compilation of our 2020 journey habitually setting markings of unforgettable moments, reviewing and evaluating experiences..
Just like SETTING PERSONAL TRAILS that will guide us to revisit our past self recollecting learnings and realizations, to review the paths we had taken and to analyze if we are still on track with our goals and aspirations this year.